This dish has restaurants screaming for the recipe. It is so good, there is never enough. This is a great meal to serve a crowd. I saw a version of this on a social media site. I can never make a recipe the way it is read. I am the type that needs to make it unique. I need to make it mine. Oh, I will share the recipe with those who ask.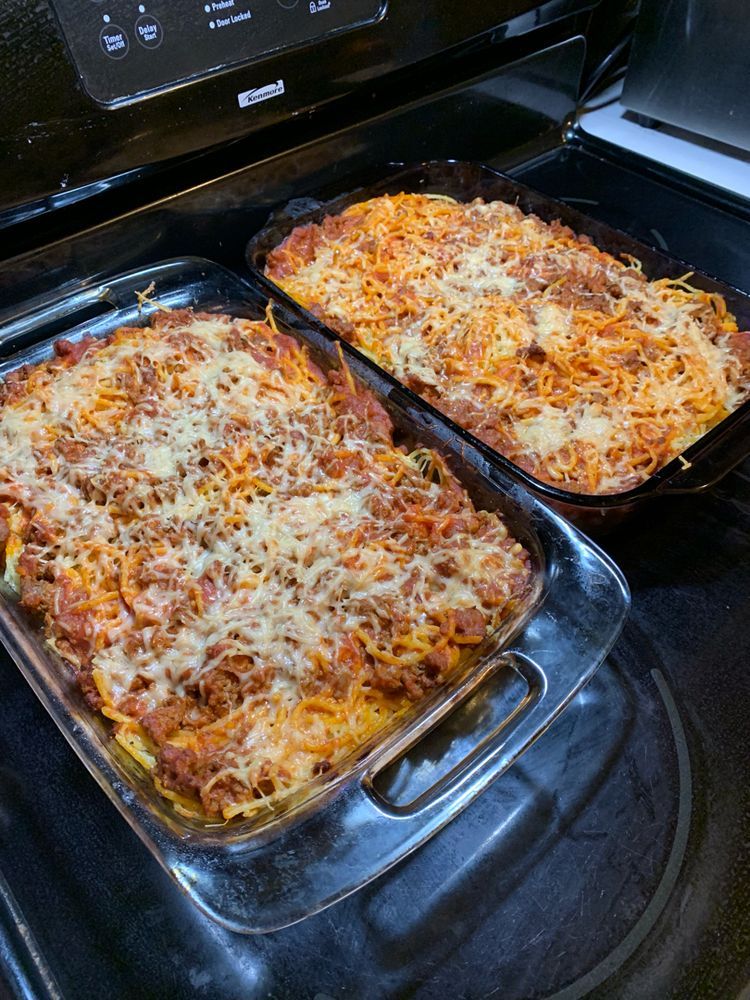 Ingredients
1 pound lean ground beef
16 ounces spaghetti pasta
28 ounces pasta sauce
8 ounces cream cheese
1 pinch garlic salt
1 clove of garlic, minced
1 tsp Italian seasoning
½ cup grated parmesan cheese
½ cup mozzarella cheese shredded
Instructions
FIRST STEP:
Preheat the oven to 350*
Bring a large pot of water to a boil. Add salt and boil the noodles according to package directions.
SECOND STEP:
In a skillet, brown the ground beef.
Drain all the fat from the meat
THIRD STEP:
Add the spaghetti sauce and stir to combine.
Drain the spaghetti and place it in a large bowl
FOURTH STEP:
Add cream cheese, garlic salt, minced garlic, Italian seasoning
Stir until the spaghetti is coated and the cream cheese is melted
FIFTH STEP:
Spread a small portion of the meat sauce in the bottom of a casserole dish
Place the spaghetti noodles on the top of that sauce
SIXTH STEP:
Spoon the remainder of the meat sauce over the top
Sprinkle the grated parmesan on top of the meat sauce
SEVENTH STEP:
Sprinkle the shredded mozzarella on top
Bake in a preheated oven for 30 to 35 minutes, until the cheese is bubbly on the top.
Sprinkle more Parmesan on the top and serve.
Enjoy!