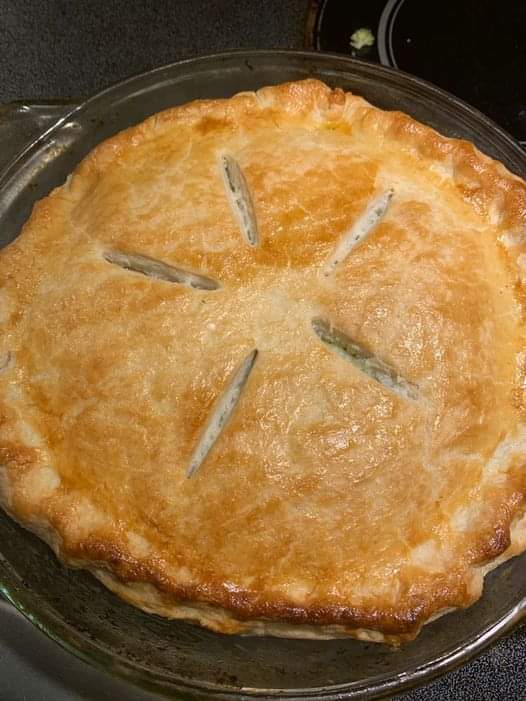 This cheesy Broccoli Cheddar Chicken Pot Pie recipe features a fusion of flavors that's certain to turn it into a family favorite.
INGREDIENTS
2 pie crusts, unbaked
2 tablespoons butter
1/2 white onion, chopped
2 cloves garlic, minced
2 tablespoons all-purpose flour
1 cup whole milk
4 oz cream cheese, softened
1/4 teaspoon ground mustard
2 cups sharp cheddar cheese, grated and divided
3 cups cooked chicken, chopped or shredded
1 1/2 cups frozen broccoli florets
Kosher salt and freshly ground black pepper, to taste
1 egg
PREPARATION
Preheat oven to 350°F and grease a 9-inch pie dish with butter or nonstick spray. Line with one of the pie crusts. Set aside.
In a large skillet over medium-high heat, melt the butter. Add the onion and cook until starting to soften, 2 minutes. Add the garlic and cook 1 minute more.
Stir in the flour and let cook 1 minute. Gradually stir in milk, followed by the cream cheese. Cook, stirring frequently, until cream cheese melts and mixture thickens. Season with ground mustard, salt and pepper.
Turn off heat and stir in 1 1/2 cups of the cheddar cheese until melted. Stir in broccoli and chicken.
Pour mixture into pie shell and top with remaining cheese. Put second pie crust on top and fold and crimp edges of the crusts to seal. Cut 4 slits in the center of the pie.
Whisk egg with 1 tablespoon of water and brush over top crust.
Bake until golden brown, 40-45 minutes. Let rest 10 minutes before serving. Enjoy!