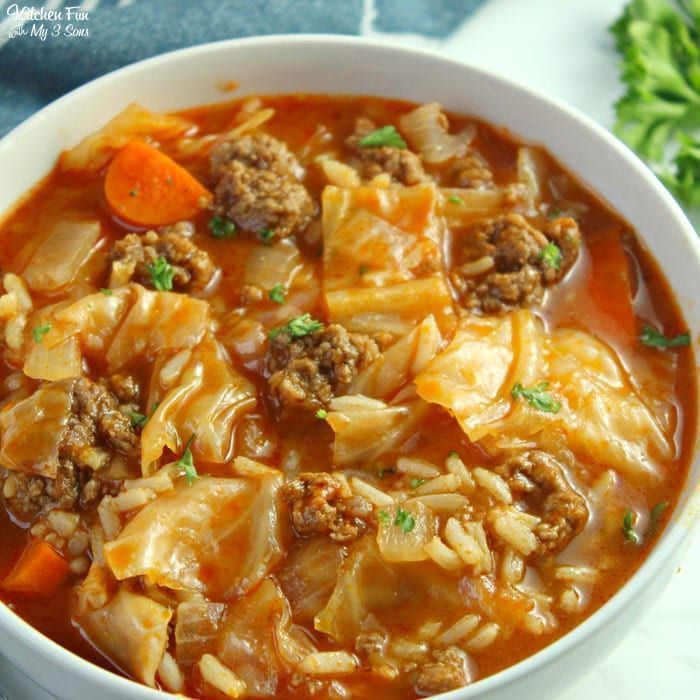 This cabbage roll soup has all the same flavors as classic baked cabbage rolls, but with way less work! This unstuffed cabbage soup is hearty, filling and the perfect choice for an easy dinner option.
Ingredients
2 teaspoons olive oil
salt and pepper to taste
1 pound ground beef I use 90% lean
1 onion finely diced
2 teaspoons minced garlic
4 cups coarsely chopped green cabbage
2 carrots peeled, quartered and sliced
4 cups beef broth
3 8 ounce cans tomato sauce
1/2 cup uncooked long grain rice
1 bay leaf
3 tablespoons brown sugar
2 tablespoons parsley
Instructions
Heat the olive oil in a large pot over medium high heat. Add the ground beef and season with salt and pepper to taste.
Cook, breaking up the meat with a spatula, until beef is browned, approximately 4-5 minutes. Add the onion and garlic cook for 2-3 minutes.
Add the cabbage, carrots, beef broth, tomato sauce, rice, bay leaf and brown sugar to the pot. Season with salt and pepper to taste.
Bring to a simmer and cook for 25 minutes or until rice is tender. Remove bay leaf and discard.
Sprinkle with parsley and serve.
Notes
Recipe adapted from The Wholesome Dish.
Not a fan of ground beef? Try ground turkey instead!
You can substitute brown rice for white rice, but that will require about 20 more minutes of cook time.