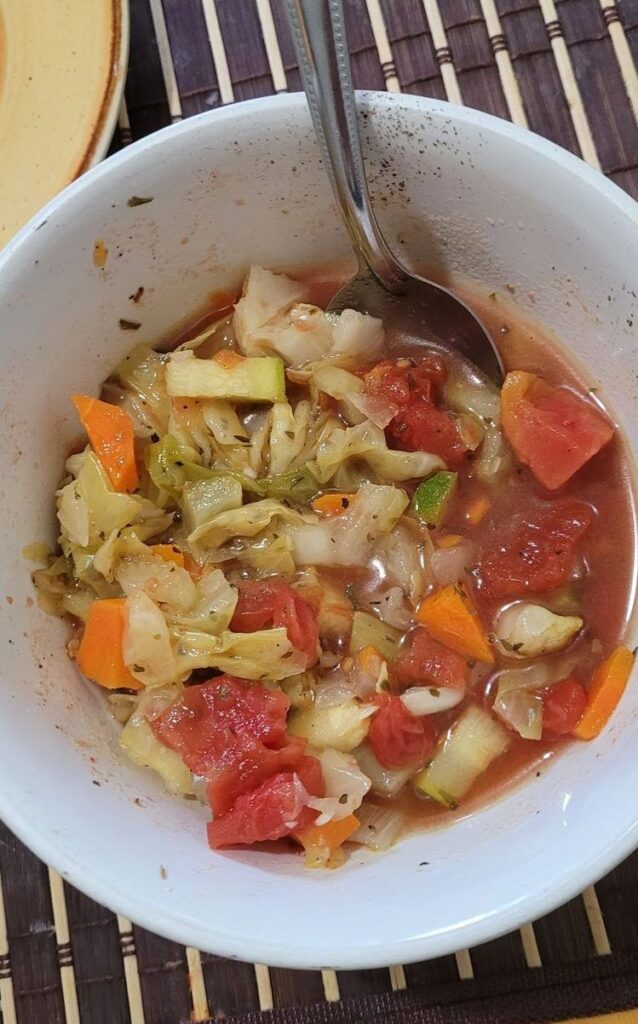 INGREDIENTS:
1 Medium Head Of Cabbage (Chopped)
2 tbsp Olive Oil
2 Small Yellow Onions (Chopped)
1 cup Baby Tomatoes (Sliced)
1 Small Orange Pepper (Chopped)
1 Small Red Bell Pepper (Chopped)
1 Small Yellow Bell Pepper (Chopped)
3 Stalks Of Celery (Chopped)
3 tsp Minced Garlic
3 cup Beef Broth
1 tbsp Tomato Paste
Pinch Of Salt And Pepper
Fresh Thyme
INSTRUCTIONS:
Add olive oil to a medium stock pan. Heat the oil over medium high heat.
Stir to add the onion, peppers, and tomatoes in the heated stock pan.
Cook on medium high heat for 6-7 minutes.
Add garlic, thyme, salt, pepper, and tomato paste stirring to combine.
Continue to cook for an additional minute before adding the broth.
Add the chopped cabbage.
Increase the heat until the soup comes to a boil.
Reduce the heat to low.
Allow this to simmer for 12-16 minutes.
Serve.