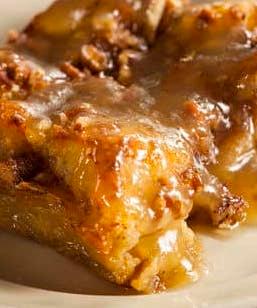 Ingredients
1 loaf challah bread, torn into strips or cubed (older bread works better in this recipe)
1 3/4 cups half-and-half
1 cup pecans, roughly chopped
4 eggs
3 tablespoons brown sugar
2 tablespoons unsalted butter
1 tablespoon vanilla extract
1 teaspoon cinnamon
1/4 teaspoon nutmeg
1/4 teaspoon sea salt
caramel sauce (store-bought or homemade)
Directions
Combine butter and brown sugar in food processor and pulse together until mixture is the consistency of small pebbles.
Toss chopped pecans in sugar butter and set aside.
In a large bowl, whisk half-and-half and eggs together until combined, then stir in vanilla extract, cinnamon, nutmeg and sea salt.
Submerge bread strips in liquid and carefully stir so everything is coated completely. Note: if preparing ahead of time, cover and refrigerate for at least 4 hours, or overnight.
Grease slow cooker with butter or non-stick spray and transfer bread (which should have absorbed all liquid) into slow cooker insert.
Sprinkle your butter and sugar coated pecans over the top of the bread mixture and cook on LOW for 3 hours (or on HIGH for 1 1/2), stirring occasionally, or until mixture is bubbly and bread is cooked through and golden brown.
Transfer to plates, drizzle with caramel sauce, and serve hot.