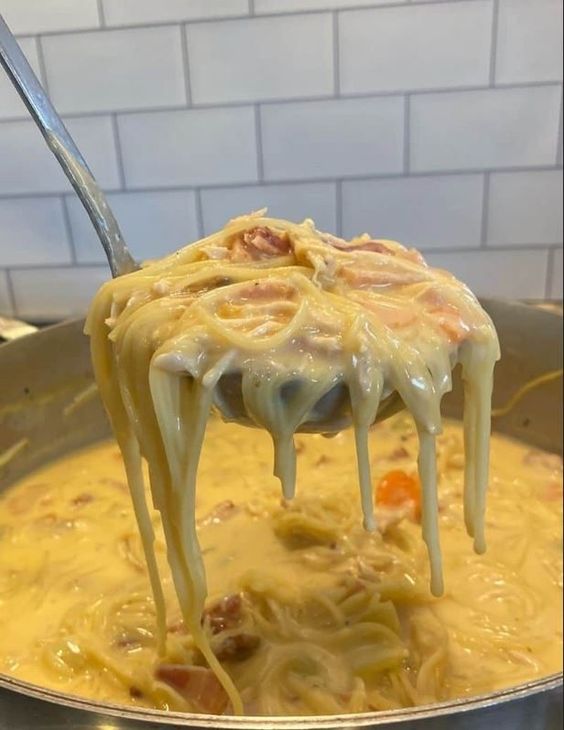 Crack chicken soup is a creamy broth-based soup with chicken, bacon, broth, milk, cream cheese and vegetables. This creamy chicken soup is perfect for all the time.
Ingredients
2 C. Shredded chicken
1 Can cream of chicken soup
1 C. Milk
6 C. Chicken broth
8 oz. Cream cheese
½ C. Carrots diced
½ C. Celery diced
1 Onion chopped
10 Slices of bacon cooked and crumbled
2 Tbsp. Ranch seasoning mix
3 tsp. Minced garlic
½ tsp. Garlic powder
2 C. Shredded cheddar cheese
8 oz. Angel hair pasta
Salt and pepper to taste
1 Tbsp. Olive oil
Instructions
Place the olive oil in a large pot over medium high heat.
Add the celery, onion and carrots to the pot, and saute until becoming tender.
Whisk together the milk and can of soup in a bowl, and then pour into the pot
Place the ranch seasoning, garlic and garlic powder into the pot along with salt and pepper to taste.
Add the cream cheese to the pot and stir until the cheese is completely melted.
Pour the chicken broth into the pot and bring the mixture to a boil.
Mix the shredded chicken and crumbled bacon into the pot, reduce the heat to low and simmer for 20 minutes.
Stir in the shredded cheddar cheese and angel hair pasta broken in half into the pot. Continue to cook on low until the pasta is tender.
Enjoy!