Southern Tomato Pie is a tradition, and it's easy to see how it became something that was made again and again and again. Sometimes there's basil, sometimes there's green onion, but you can always expect that fresh tomatoes are paired with a creamy white sauce and baked into a pie crust.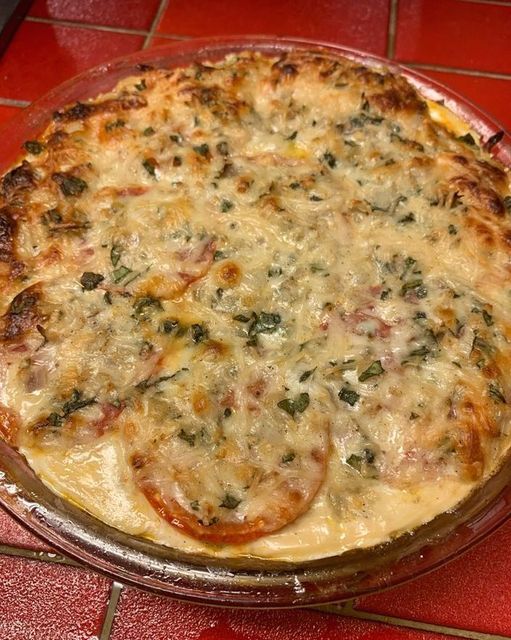 INGREDIENTS
1 9-inch pie crust, unbaked
4-5 Roma or beefsteak tomatoes, sliced
1/2 teaspoon salt
1/4 cup fresh basil leaves, chopped
2 cloves garlic, minced
1 cup mozzarella cheese, grated
1 cup sharp cheddar cheese, grated
3/4 cup mayonnaise
1 teaspoon black pepper
1/2 cup butter cracker crumbs (such as Ritz, about 12 crackers)
How To Make Southern Tomato Pie
Preheat oven to 350°F. Line the pie shell with parchment paper and fill with dried beans or pie weights and bake until lightly golden, about 20 minutes.
Remove parchment and beans or pie weights and set crust on a wire rack to cool while you make the filling.
Arrange tomatoes on a double layer of paper towels and sprinkle with salt. Allow to rest 10 minutes, then pat dry with another double layer of paper towels.
Layer tomatoes and basil in the pie shell, reserving some slices of tomato for the top of the pie.
In a small bowl, stir together the mayo, garlic, cheeses, and black pepper. Spread mixture over tomatoes.
Sprinkle the top with cracker crumbs and top with reserved tomato slices.
Bake until golden brown and bubbly, 40-45 minutes. Let rest 15 minutes before slicing and serving. Enjoy!