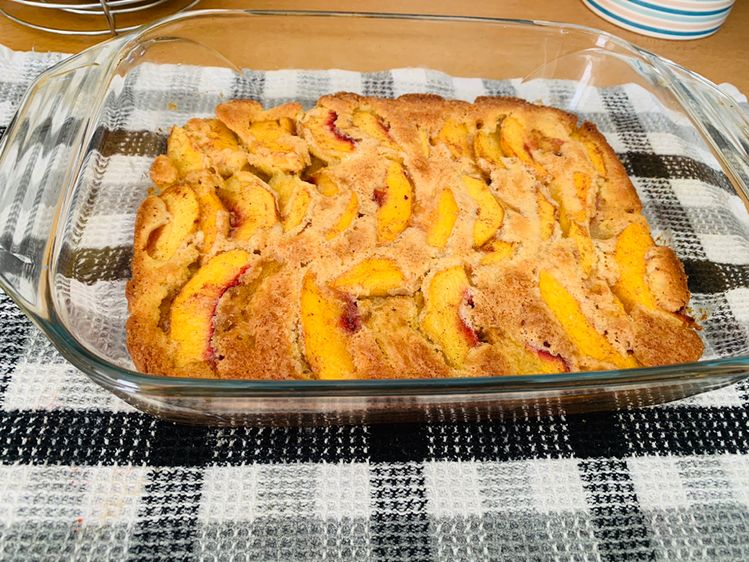 This No-Fail Fruit Cobbler recipe is nearly hard to screw up and can be made with a variety of fruits. It's a terrific last-minute dessert because you can make it in about an hour with ingredients you already have on hand. A Southern lady needs her cobbler, and this recipe for Fruit Cobbler is very easy to make and adapt to the seasons. This Southern cobbler recipe can be made with fresh, canned, or frozen fruit.
Ingredients:
Non-stick Cooking Spray (like PAM)
Pie Filling (use 1 can for an 8″ x 8″ pan OR 2 cans for a 9″ x 13″ pan)
Jiffy Golden Yellow Cake Mix (use 1 box for an 8″ x 8″ pan OR 2 boxes for a 9″ x 13″ pan)
Butter (1/2 – 3/4 stick)
Sugar
Cinnamon
Directions:
Spray the inside of the baking dish thoroughly with the non-stick cooking spray.
Next, empty Pie Filling into the baking dish and spread evenly.
Sprinkle Golden Yellow Cake Mix over the top of the Pie Filling, spreading evenly. DO NOT add any ingredients to the cake mix – Use it dry.
Cut thin slices (pats) of butter and place them over the entire top of the dry cake mix, with small spaces between.
Sprinkle sugar over the entire top.
Next, sprinkle Ground Cinnamon over the entire top.
Bake in a 350 degree oven for 25-35 minutes. My rule is – when it smells good enough to eat, it is! But, look for a golden brown color.
Allow to cool slightly. Serve warm with a scoop of ice cream (optional). Topping will be crispy…. YUMMY
ENJOY.