These easy coconut cookies are delicious! No Bake Coconut Praline Cookies have amazing texture & sweet brown sugar flavor in a quick no bake cookie recipe.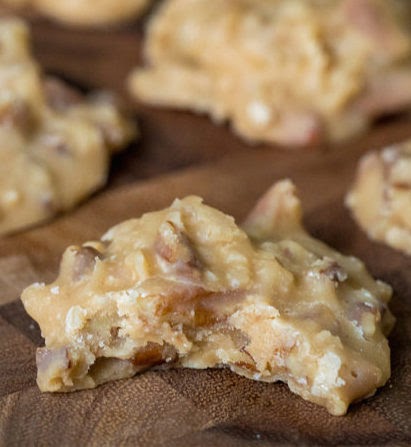 INGREDIENTS
2 cups pecans
2 cups sweetened shredded coconut
1 1/2 cups sugar
1 cup brown sugar
1/2 cup evaporated milk
1/2 cup light corn syrup
1/2 cup (1 stick) unsalted butter
1 teaspoon vanilla extract
1/2 teaspoon salt
PREPARATION
In a large saucepan over medium-high heat, stir together sugars, evaporated milk, corn syrup and butter until melted and smooth.
Bring to a boil and cook for 3 minutes, then remove from heat and stir in vanilla extract and salt. Fold in shredded coconut and pecans until incorporated, then continue stirring for 3-4 minutes, or until mixture begins to cool.
Once thick, use a tablespoon or small ice cream scoop to drop spoonfuls of cookie "dough" onto wax paper-lined baking sheets.
Let set completely (freezing if necessary), then enjoy!