Pineapple Coconut Cake – Well with a name like God Bless America cake you know this has to be good! With an iteration of this hailing from a Cajun cookbook, this is also known as Cajun cake, but really the name isn't what's important here – it's how great this cake is! A moist, fruit-filled cake that's topped with a nutty, caramel frosting that truly is the icing on the cake.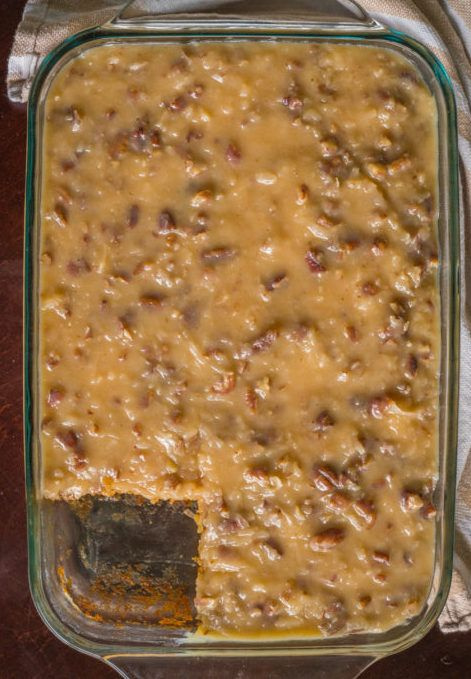 INGREDIENTS
Cake:
1 (20 oz.) can crushed pineapple, with juices
2 large eggs
1/4 cup vegetable oil
1 cup sugar
1/2 cup brown sugar
2 cups all-purpose flour
2 teaspoons baking soda
1/2 teaspoon salt
Icing:
1 (12 oz.) can evaporated milk
1 cup (2 sticks) unsalted butter
1 1/2 cups sugar
2 cups shredded coconut
1 cup pecans, roughly chopped, toasted
1 teaspoon vanilla extract
1/4 teaspoon salt
How To Make Pineapple Coconut Cake
Preheat oven to 350º F and lightly grease a 9×13-inch baking dish with butter or non-stick spray.
In a large bowl, whisk together eggs, sugar, brown sugar, oil and pineapple (with juices), then mix in flour, baking soda and salt.
Once cake ingredients come together, transfer to prepared baking dish.
Place baking dish in oven and bake for 25-30 minutes, or until toothpick inserted in center comes out clean.
While cake bakes, combine evaporated milk, sugar and butter in a large saucepan over high heat and bring to a boil.
Reduce heat to low and simmer for 10 minutes.
Remove mixture from heat, then stir in shredded coconut, pecans, vanilla extract and salt.
Remove cake from oven and pour icing over the top, then spread into an even layer. Set aside and let set before slicing and serving.